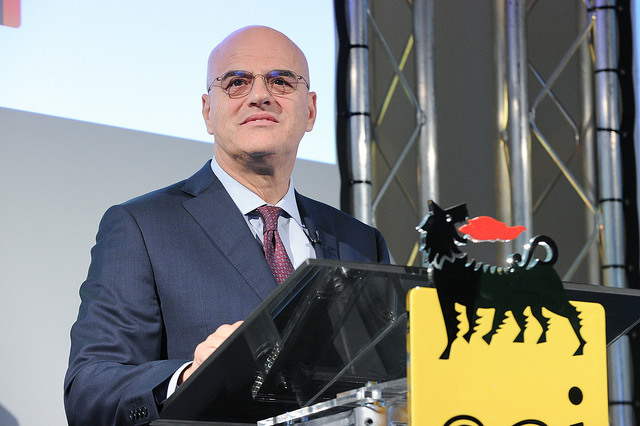 "Le risorse destinate all'Italia nell'arco del Piano 2018-2022 salgono dai 20 miliardi inclusi in quello 2014-2017 a 22": l'annuncio dell'AD di Eni Claudio Descalzi arriva nel corso dell'Assemblea degli Azionisti che si è tenuta lo scorso 10 maggio a Roma. Si tratta di una "spesa che non comprende solo gli investimenti pari a 7-8 miliardi ma anche attività di bonifiche, manutenzione, attività operative" ha precisato l'AD aggiungendo che a beneficiarne saranno soprattutto gli ambiti "sicurezza, ambiente e green business" dove il gruppo punta a individuare soluzioni sostenibili e innovative attraverso la valorizzazione degli asset esistenti.
Il futuro di Eni sarà contraddistinto da "integrazione ed efficienza": queste sono le parole chiave su cui Claudio Descalzi ha improntato il suo intervento. Zohr, il progetto egiziano di cui è stato annunciato l'avvio della terza unità di produzione, riflette efficacemente questo modello "figlio dell'integrazione professionale e degli asset esistenti" esteso anche alle altre aree di attività. L'AD ha ricordato in merito come l'upstream e il settore gas and power stiano lavorando insieme portando risultati notevoli: basti pensare a Jangkrik in Indonesia, giacimento che inizialmente doveva arrivare a produrre 85 mila barili di petrolio equivalente (Boe) mentre oggi invece ne produce in realtà 120 mila.
Eni può assicurare al cliente "un'offerta tecnologicamente garantita da un unico nome, ma anche con un transfert tecnologico" ha sottolineato Claudio Descalzi, facendo notare come nell'upstream l'integrazione diventi anche commerciale aprendo a proposta integrate che passano anche attraverso il gas and power, la raffinazione, la chimica e rinnovabili. Parlando di efficienza, l'AD ha fatto osservare come si possa declinare in finanziaria, tecnologica e ambientale. Da un punto di vista finanziario si esprime nella definizione di una disciplina rigorosa, orientata a mantenere il livello di neutralità di cassa senza rinunciare alla crescita. In ambito tecnologico il focus è sulla digitalizzazione, mentre per quanto riguarda l'efficienza ambientale l'attenzione è riservata a soluzioni che portino a ridurre delle emissioni di CO2: Eni è una società che anche in questo può dare un contributo significativo.