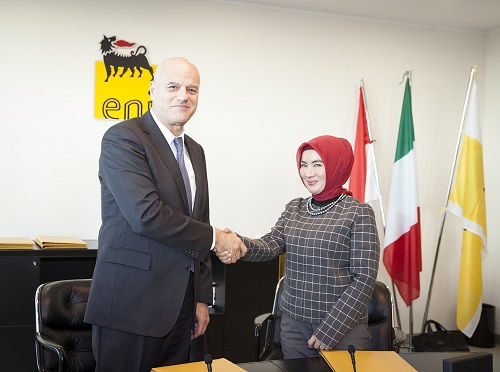 Eni e Pertamina collaborano per individuare sinergie tra le rispettive tecnologie, expertise e know how, con l'obiettivo comune di sviluppare nuove opportunità nell'ambito dell'economia circolare. Il Memorandum of Understanding è stato firmato il 30 gennaio dal Presidente e Direttore di Pertamina Nicke Widyawati e dall'Amministratore Delegato di Eni Claudio Descalzi, alla presenza del Ministro dell'Energia e Risorse Minerarie Ignasius Jonan. La collaborazione sarà fondamentale per identificare nuove sinergie strategiche nello sviluppo di prodotti a basso contenuto carbonico ed energie rinnovabili: nell'ambito dei processi di trasformazione e valorizzazione dei rifiuti e delle biomasse le due società collaboreranno facendo leva sulle tecnologie proprietarie di Eni, mentre verranno valutate nuove aree di sinergia nell'ambito del riutilizzo dei materiali.
Per massimizzare la riciclabilità dei prodotti finali saranno applicati processi di ecodesign. Si parla anche di riciclo dei polimeri, oltre che di trattamento e valorizzazione delle acque. Il Memorandum of Understanding prevede la ricerca di nuove collaborazioni per lo sviluppo di tecnologie atte alla valorizzazione di scarti e rifiuti, la biofissazione della CO2 e il suo riutilizzo nel settore dei trasporti a ridotto impatto ambientale. Per quanto riguarda le energie rinnovabili, Eni e Pertamina hanno individuato opportunità di business sia in Indonesia che a livello internazionale.
In occasione della firma del Memorandum, Claudio Descalzi e Nicke Widyawati hanno gettato le basi di un accordo per dare il via a una joint venture dedicata alla costruzione di una bio-raffineria all'interno di un complesso indonesiano già esistente, fissando così anche i termini preliminari per l'utilizzo degli asset di bio-raffinazione di Eni in Italia. Si sono aperte le porte verso il mercato indonesiano per l'olio vegetale idrotrattato (HVO).
Eni opera in Indonesia dal 2001 e possiede un ampio portafoglio di asset in esplorazione, produzione e sviluppo. Le sue attività si concentrano nel bacino di Kutei: nell'area contrattuale Muara Bakau ogni giorno vengono prodotti circa 18 milioni di metri cubi di gas.